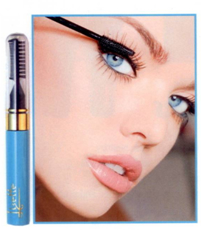 Is a nurturing conditioner providing long-lasting moisture: it intensively nourishes and protects eyelashes
and eyebrows. When used daily this rich combination of D-panthenol and glycerine helps to prevent dry,
brittle eyelashes and eyebrows, preserving their full length and making them look healthy and stringer.
Conditioning Eyebrow Gel/Clear Mascara:
Can be used to hold firmly your brows in place or for a very natural look. It is very popular between teenagers for long eyelashes.

Beside this clear mascara comes with a comb and brush in the same tube.

How to use: Like hair spray for your arches, use alone or on top of brow color to subdue even the most misbehaving brows.